"Many years later, when people look back on the battle against coronavirus, they will remember the distant day when Wuhan blocked the entire departure channel in early 2020. What opens with the shutdown is not the plot of magical realism, but epidemic prevention Controlled civil war. This battle slowly developed from the first battle in Wuhan to a fight all over the world. The fate of all humankind is tied together, and the terrible virus has made people all hearts. Wuhan is the "eye of the storm." "some of the scenes in the documentary look like movie scenes, empty streets, temporarily closed important cities, large-scale school closures, laid-off factories, hundreds of thousands of people infected with the virus, and even lost their lives."  If I hadn't experienced that year, maybe the picture on TV at the moment would make me think that it was a disaster movie. Perhaps the robot Moti sensed my sadness, she turned off the TV for me and gave me a cup of hot milk. I felt tired and went to my bed…
          "Ding Ding Ding …" A wake-up call woke me up, and I reluctantly sat up with my heavy eyelids open. I turned on my smartphone, and the alarm clock on the phone screen showed 15 times. Moti pushed in and walked in and opened the curtains for me to let the sunshine through the room. I looked at the face of Moti's simulation and couldn't react for a while. "Moti, what's the time now?" "Dear, today is March 28, 2040, 7:53:04." Moti answered my question gently. Time flies. The development of science and technology in these years has made society progress faster and faster. People's lives are becoming more and more convenient because of artificial intelligence, like Moti.
          After I got up and washed, I sat in front of the computer with the cappuccino made by Moti, ready to start my day of study. After that terrible historical disaster that people don't want to recall, people began to rely on online courses. People are beginning to tend to have more time to arrange and enjoy their lives instead of going to school every day. This society is very different from 20 years ago. Schools no longer exist. Instead, the way we educated is through online courses. With the development of technology, online education is also getting better and better with the help of artificial intelligence. I turned on the aerial projector and projected the professor's courseware into the air. The 5D high-definition video makes the professor feel like he is giving a lecture in front of me. Through the dialogue buttons on the air control keyboard, I can communicate with the professor at any time. When I encounter a problem that I don't understand, I can summon Kosemio, the course robot, through the question button on the keyboard. He is my 24-hour course tutoring robot, and he will connect the knowledge storage system in my brain to ensure that I understand the course content. If he realizes that I am behind the regular progress of this course, he will automatically suspend my class and explain to me those questions that I have doubts. With the help of Kosemio, my learning progress is entirely within my acceptable range.
          At this time, a soft prompt sounded suddenly. "Dear, do you want me to check the results of your quiz?" "Yes, please." After receiving instructions, he began to review my test papers to reveal my results. You must be surprised to see it here. Yes, this social networking class is entirely different now than it was 20 years ago. Twenty years ago, students would get their exact grades whether good or bad. The current mode is that you can choose to have a grade or not. I'm grateful for the change in the current online course mode because geniuses don't need to be defined by pure ABCD scores. The purpose of education is not to get high grades, but to find the meaning of life through education, and to complete the dream of life through the knowledge we have learned. We are conditioned to believe that what is valued and essential in school is what we should value and find important in life. Nobody is defined by grades now, and we are much more than a grade on a sheet of paper for one subject. Our mental and physical health is more important than grades. We all have strengthens and weaknesses. When school measures us on grades and results, that is what disappoints us in life. Now online courses pay more attention to what you learn and care more about your process and destination, not just the results you get. Although grades are important, they do not tell everything.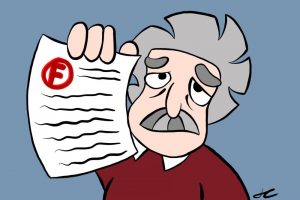 Oh, I forgot to introduce it to you. The current e-learning model also has the option to customize the course itself, all of which inspired the concept of universal design from 20 years ago. Universal design should meet the needs of potential students with a wide variety of characteristics. Disability is one of these characteristics. For example, one student could be Hispanic, six feet tall, male, thirty years old, an excellent reader, primarily a visual learner, and deaf. When we are designing a course, the Universal design requires consideration of all characteristics. The current course fully considers universal design and can be very user-friendly to let you customize the required courses. For example, blind students can customize Braille courses; the difficulty and progress of customized courses vary from person to person with different IQ and comprehension abilities, or everyone who wants to gain various knowledge in this course can choose a course that focuses on that direction of study.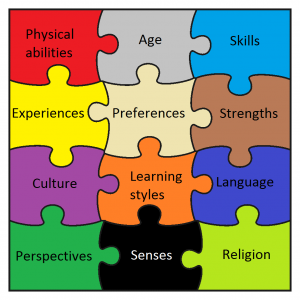 All in all, as long as you can think of the customized solution, you can customize it in the current online course system. With these customized solutions, I no longer need to learn the content of the course that I conflict with but gained the knowledge that is useful to me. 
          Learning centers have also been set up outside, and students mainly make advance reservations at various learning centers through the Internet. The second is to participate in offline activities organized by learning centers such as libraries or communities for practical learning. These learning contents are to meet personal needs, according to your customization content. From learning for a diploma to learning for your interests and abilities, this is the most critical change in 20 years.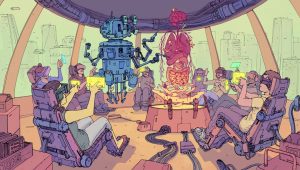 The offline learning center will be open 24/7, will be more personalized and flexible and will take a more flexible learning approach. Students can learn effectively after falling asleep. For example, the teacher who chooses the teaching method he likes; students can also accumulate some problems through self-study and make an appointment in advance to the teacher of the learning center to answer the questions. The Learning Center is designed to break the constraints of time and space. In this way, the students in the learning center have no regular classmates and not restricted by the academic system. It may be that in a knowledge area learning center, 8-year-old children are 70-year-old grandparents. This is an era of lifelong learning for all people, and different people can find the learning content and learning institutions that suit them.
          "The American education community once widely circulated a sentence: What can be found on Google does not need to be taught in the classroom." This sentence has led to higher demands on teachers in society. People are now more willing to pay for knowledge. Teachers now grow up with students. They are both the student's mentor and the student's companion; they are both coaches and sparring. It is also an essential feature of contemporary teachers to pay more attention to emotional communication with students, to timely discover and help solve problems encountered by students, and to focus on the inherent needs of student growth. I am very grateful for the development of the times so that we can better find ourselves.
          In conclusion, the rapid development of online courses has advantages and disadvantages. The development of science and technology over the past few decades has made people's lives more convenient, and all education resources can be obtained without leaving the house. The concept of international students has also disappeared. We can learn about the local culture without going to unfamiliar countries. Global cultures have also blended with the development of science and technology. However, due to the development of technology, there are fewer connections between people, and we don't have much emotional interaction. The convenience of online courses makes us not know each other who the team members who completed the project together. Perhaps the development of science and technology has indeed brought civilization to humankind, but sometimes I missed the time 20 years ago.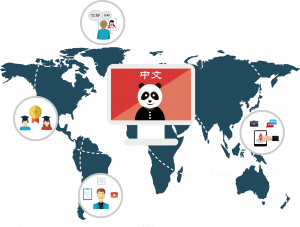 References: 
Retrieved from https://www.statepress.com/article/2017/04/spopinion-grades-do-not-correlate-with-a-students-intelligence
Retrieved from https://udlleurope.wordpress.com/
Retrieved from https://thelongandshort.org/forecasts/envisioning-the-classroom-of-the-future
Retrieved from http://smbp.uwaterloo.ca/2016/03/can-social-media-give-online-education-a-brighter-future/
Crosslin, M. (2018). Effective Practices in Distributed and Open Learning. https://via.hypothes.is/https:/uta.pressbooks.pub/onlinelearning/chapter/chapter-5-effective-practices/
Bates, T. (2019). Understanding technology in education. https://via.hypothes.is/https:/pressbooks.bccampus.ca/teachinginadigitalagev2/part/chapter-8-understanding-technology/
Sheryl, B. (2019) Universal design in education: Principles and applications.            https://www.washington.edu/doit/universal-design-education-principles-and-applications